Find GIS-related jobs, internships and student jobs here
https://strato-editor.com/.cm4all/widgetres.php/com.cm4all.wdn.PhotoGallery/images/thumbnail-gallery.png
Your vacancy on this page, our LinkedIn and Facebook? Send an e-mail to: gima-node@uu.nl.
Your job offer on this page, our LinkedIn and Facebook? Send an email to: gima-node@uu.nl
___________________________________________________________________
Vacancy | MinMap Technology

Happy to announce that MipMap Technology is looking for new members (especially Master's and PhD students) to contribute to their work and join their team in their office at Radex Innovation Center on the TU Delft campus!

"As MIPMAP Technologies incorporated by six member and one partner companies, we are an international company based in the Netherlands, working in the field of Geographic Information Systems (GIS), 2D and 3D cartography, and the creation of digital twins of cities, buildings , facilities, and utilities for over 25 years.We are also a Platinum Partner of ESRI, which is the leading Global Supplier of GIS.

As a GIS company, we offer cutting-edge and innovative solutions and services to several industries. Universities are also in the framework of our interest. In line with local, EU horizon, and Eurostar programs, we are conducting different R&D projects in cooperation with universities in Europe and planning to carry out much more future projects. Within the framework of our cooperation with universities, we also continue our joint ventures with the Faculty of Architecture of TU Delft University.

For more information, you can access their website www.mipmap.nl


_____________________________________________________________________________________________________
Esri Talent Development Program | Give your career a flying start! 🚀

The Esri Talent Development Program will start in September 2023: a two-year trajectory, aimed at commerce or technology, in which you, as an ambitious talent, follow training courses in the field of IT knowledge and personal competences. Part of this program may include a visit to one of Esri's international distributors. After two years you choose your own direction within our organization. 
Want to give your career a flying start? You can register until April 7, 2023! In addition, we would like to invite you to sample the organization, technology and atmosphere at our annual event Esri GIS Tech on April 4. You can contact Jill de Korte (HR advisor) via jdekorte@esri.nl.

More information about the programme, the selection procedure and how to apply can be found on this page .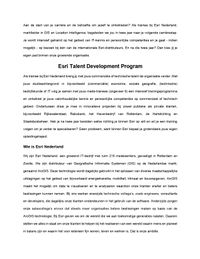 Esri Talent Development Program_page-0001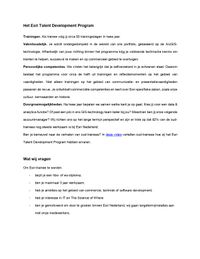 Esri Talent Development Program_page-0002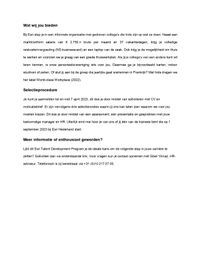 Esri Talent Development Program_page-0003
Job vacancy working student geodata at Brink (12-16 hours a week)
Who are we?
Brink is a project management and consultancy firm active in construction, infrastructure and real estate. With our data team and our expertise in the field of urban development, we are fully committed to geodata!
What are you going to do?
You ensure that, with the help of Geodata tools, we quickly have a good picture of the social values ​​in an area in the future. You develop these tools yourself, the area development quick scan and the social value quick scan. Using various (geo) data sources that you process into insightful data layers and analyses.
Creative and new ideas? Surprise us! Take the freedom we give you to apply and experiment with new techniques. Are you stuck? Then your fellow geo experts are ready to help you further.
Interested? Click on this link for more information!

dBvision is looking for GIS consultants at all levels!
If you are at home in the world of GIS and want to work with a small team of experts on a better living environment by supporting you in conducting complex and often national noise investigations, click on the image below and view the vacancy. 


PostNL is looking for Location Advisor!

PostNL is looking for a Retail Location Advisor with a passion for data, geography and planning. We offer you a job with a lot of impact. Because your data-driven advice makes it possible for colleagues to make the right choices regarding the entire PostNL Retail network in the Benelux. Would you like to work on future scenarios and predictions together with a motivated team? And do you like to further optimize the current tools and working method? Check out our vacancy and apply via this link: https://lnkd.in/eDbPjqNN

About Tomorrow is looking for a working student GIS!
Over Morgen is a consultancy firm of approximately 90 people, including six GIS experts who are part of the Data team. Together we work every day on a sustainable and future-proof living environment within themes such as sustainable mobility, circularity, sustainable area development and the energy transition (see also our website).
We are looking for someone who can support the Data team with various GIS activities. Specifically, we have an assignment for the inventory of the outcomes of Transition Vision Heat at national level.


Would you like to work with us on GIS activities on various themes in addition to your studies at Over Morgen and thus get to know our company better? Send an email to michiel.prak@overmorgen.nl .


Begin aan de reis van je carrière bij Tensing! ⛰️
Sta je te popelen om een carrière binnen de Geo-ICT te starten? Dan past ons Young Professional programma wellicht bij jou!
Tijdens het Young Professional programma staat jouw ontwikkeling voorop. We gaan aan de slag met alle essentiële kennis en vaardigheden om als professional aan de slag te gaan. Je krijgt de mogelijkheid ArcGIS, FME, Python en Agile/Scrum certificaten te behalen en te werken aan je consultancy vaardigheden. Natuurlijk doe je praktijkervaring op bij onze klanten, onder begeleiding van één van onze Tensing specialisten.  
Past deze rol bij jouw ambities? Solliciteer direct!
Stedenbouwkundig bureau PosadMaxwan zoekt GIS-stagiair!
Je werkt binnen on s GIS-team aan verschillende projecten, in samenwerking met onze drie ontwerpteams en ons R&D-team. We bieden een leerzame en veelzijdige stage; in een jong, divers en enthousiast team; op een fijne werkplek op de BINK36 in Den Haag i.c.m. thuiswerken; en een vergoeding van €400,- per maand plus je reiskosten. Je krijgt een contract van 32-40 uur per week voor 4-6 maanden en de startdatum is in overleg (maar bij voorkeur zo snel mogelijk).
Wil je ook werken aan gezonde, duurzame en slimme steden? Lees meer over ons en de stageplek op onze website: https://posadmaxwan.nl/nl/bureau/28/gis-stagiair
Gezocht: student-assistent (data)visualisaties!
Wil jij graag tijdens je studie werkervaring opdoen in een professionele, jonge en energieke omgeving in het centrum van Amsterdam? Dan is Ecorys de juiste plek voor jou. Ter aanvulling van ons team zijn wij op zoek naar student-assistenten!
Student-assistenten
Studenten kunnen voor twee of drie dagen in de transportsector van Ecorys aan de slag. Je ondersteunt onze consultants met verschillende vormen van datavisualisatie. Je helpt met het opmaken van kaarten, rapporten, grafieken, infographics, interactieve dashboards, en meer.. Als student-assistent kan je je uren flexibel indelen, waardoor dit prima te combineren is met je studie.
Naar wie zijn we opzoek?
Wij zoeken creatieve studenten die geïnteresseerd zijn in datavisualisatie. Je kunt goed uit de voeten met verschillende Adobe programma's, zoals Illustrator, InDesign en Photoshop. Ervaring met ArcGis of Qgis is een pre. Heb je daarnaast een flexibele instelling, ben je voor langere tijd beschikbaar en ben je enthousiast? Dan gaan wij graag met jou in gesprek!
Voor meer informatie: https://careers.ecorys.com/en/ad/student-assistent-transport-infrastructuur-en-mobiliteit/93lusu
Over Morgen zoekt werkstudent GIS!
This is a Dutch vacancy
Bij Over Morgen werken we elke dag aan een duurzame en toekomstbestendige leefomgeving. Denk bijvoorbeeld aan thema's als duurzame mobiliteit, energietransitie en duurzame gebiedsontwikkeling (zie ook onze website). We zijn een adviesbureau van circa 90 mensen, waaronder zeven GISsers die onderdeel uitmaken van het datateam. Lijkt het je leuk om ons naast jouw studie te helpen met ondersteunende GIS-werkzaamheden en zo ons bedrijf beter te leren kennen? Stuur dan een mailtje naar megan.visscher@overmorgen.nl. 
Trajan is looking for fieldworkers!

Are you, or do you know a student who likes to keep busy? Who like to travel the country with other students and work on mobility projects? We are always looking for fieldworkers to collect data for our parking research. Shifts are between 2 and 8 hours in different city's. Travel expenses are paid for and it's a great way to get to know other people and the country! After some experience in the field, there is also the possibility to work on data controle at the office. So would you like to plan your own hours, make some cash and work in a job that matters?! Go to our website www.trajan.nl and sign up. We will send you all the information!
Student job: Medewerker woningbeleggingen bij Capital Value
This is a Dutch vacancy
Wil je tijdens je studie relevante werkervaring opdoen binnen het grootste team van woningbeleggingsspecialisten in Nederland? Dan zoeken wij jou! 

Wat ga je doen? Als medewerker woningbeleggingen ondersteun je een dag, een aantal dagen in de week (in overleg), of zelfs fulltime onze ervaren vastgoedprofessionals bij het uitvoeren van hun werkzaamheden. Je houdt je onder meer bezig met: (1) Verzamelen en analyseren van relevante marktdata, (2) In kaart brengen van projecten en (3) Diverse andere werkzaamheden ter ondersteuning van onze verkoopprocessen.

Meer informatie over de vacature is hier te vinden.
Herken jij je in de functieomschrijving en lijkt het je leuk om kennis te maken? Graag ontvangen we je CV met motivatie op werken@capitalvalue.nl. Heb je nog vragen over deze vacature? Neem dan contact op met Astrid Scheper (+31 30 72 71 700 | +31 6 55 39 51 25 | a.scheper@capitalvalue.nl). Zij vertelt je graag meer over de functie, onze organisatie en de kansen die wij je kunnen bieden.
Stages bij Esri
This is a Dutch vacancy

Are you looking for an internship? Grab your chance now, because Esri is looking for new interns! You will end up in a team where you get many opportunities and can learn about different subjects. Esri offers a variety of internships on various innovative topics. Consider, for example, indoor mapping, by conducting research into the integration of BIM and GIS. Or are you perhaps more interested in the impact of the energy transition on utility companies? There are plenty of options!

Knowing more? Take a quick look at: https://vacatures.esri.nl/overzicht-stages .